Posted on 10th Nov 2021
Hurst pupils had a bloomin brilliant day at Applegarth Farm, discovering how new technologies are changing farming for the better.
Pupils learnt about how tower farms work and how beneficial they can be for the environment and in producing more food efficiently and organically.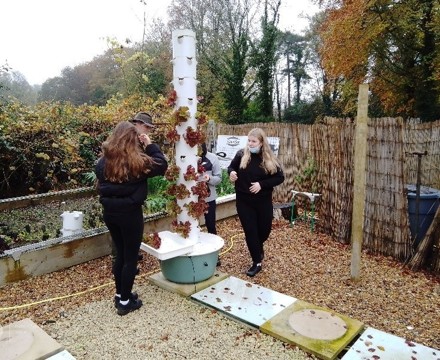 Brooke, Rhiannia and Mischae harvesting lettuce from the tower units for the restaurant.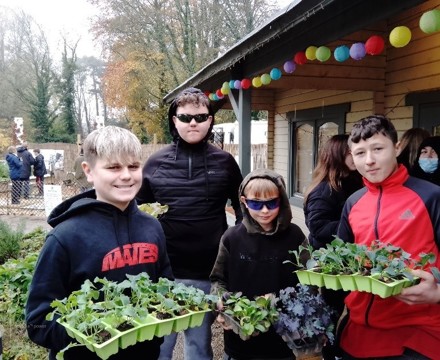 Steven, Levi, Finley and Harley transplanting seedling to tower units. The glasses protect the eyes from the intense lights which help the plants grow.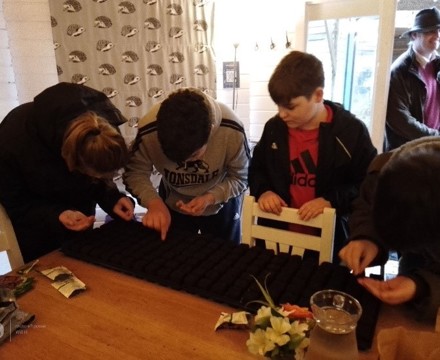 Sowing the next crop. Edward, Eli, James and Simao concentrate hard on prepping the pods for seeds.
---
The great thing about the trip was seeing how school learning was really useful in meeting the future challenge of food production. This was a unique trip for Hurst pupils in many ways as we are the only school to see this fantastic future farming system so we would all like to say a massive thank you to William Benson and his Team for all their time and support.
About Applegarth Farm
William Benson, owner of Applegarth Farm is bringing a new, vertical, aeroponic growing system to the UK to provide organisations with a way to grow their own food. The 'hyper local' production of foods, where produce is grown and consumed in the same location could go a long way to start helping tackle the UK's problems with the supply chain and that the majority of foods we eat is imported. The aeroponic system uses 5% water that normal agriculture does, grows produce 3 times faster and can produce 950% more roots on fresh produce in the same space as soil growing. In fact there are over 10,000 of these towers in schools in the US and 300+ tower farms world wide. The farm at Applegarth was the first in the UK and provides a good level of produce to its restaurant and retail outlet. It has been showcased by DEFRA and various other organisations. Planning permission is about to be granted on a large redevelopment of the site to include a 6000 sq ft greenhouse with 300 towers in it.