Catering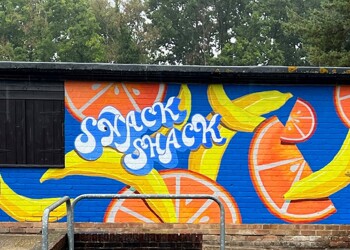 At The Hurst School we have a range of hot and cold food available at morning breaktimes and lunchtimes. The school hall and our outdoor seating areas provide pleasant places for students to relax and enjoy their food.
Food is served from both the school kitchen and the 'Snack Shack' at morning breaktimes, with the school kitchen also serving a variety of hot food, snacks, and drinks at lunchtimes.
We are a 'nut free' school and cater for students with a range of allergies. We ask parents to provide us with allergy information before the start of the school year, and this is then uploaded onto the school system. This means that every member of the catering team has access to this information at the till when the student purchases any food item. In addition, our Kitchen Manager, Mrs James, likes to meet students with allergies at the beginning of the school year so that she can put a face to a name and answer any questions they may have.
We use a cashless catering system at lunchtimes and breaktimes, and the benefits of this are:
increased speed of service, reducing queuing times
parents and carers can see what their children have purchased each day by looking at ScoPay
anonymity for students receiving Free School Meals
facility for parents to pay on-line
no need to carry cash preventing loss/theft
The cashless system is biometric so it recognises the thumbprint of your child at the tills. No cash is accepted at the tills. Money can be paid into a student's ScoPay account, and the amount spent on food and drink will be deducted daily.
A free meal allowance of £2.60 is available to students whose parents are in receipt of specific benefits. The allowance can be used on any items from the canteen. Accounts can be topped up using ScoPay. To apply for free school meals please use the eligibility calculator at https://www.cloudforedu.org.uk/ofsm/hants
Please click on the links below to view sample different menu options:
Mid-morning menuFreshly prepared food