An introduction to our school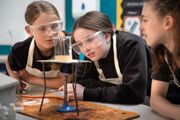 At The Hurst School we set high expectations for all our students, and everyone is treated with respect. Our students feel safe at school and we work hard to build their confidence, instil an appetite for learning, and challenge our learners through a broad and balanced curriculum. We help to build confident and resilient students who are ready for the next stage of their learning journey when they leave us. Our semi-rural location means we have plenty of green space for students to spend their break and lunchtimes, and excellent facilities for our PE faculty and various sports teams.
The Hurst School is a values-led, inclusive community. We are a large school with a small school feel, and our students and teachers are proud to study and work here. We are committed to the highest standards of teaching and learning, and have passionate subject specialist teachers. We provide a purposeful learning environment and as you walk around the buildings, you can feel the positive energy.
We have a dedicated Wellbeing Centre which acts as a base for interventions such as counselling and other smaller groups and 1:1 support, as well as acting as a safe space at break or lunchtime for our more vulnerable students. We support the physical and emotional wellbeing of our students through our Pastoral Hub. Our support extends to every aspect of school life in order to look after students' personal development as much as their academic progress.
As we are situated on a large green site, we also have plenty of space for students to spend their break and lunchtimes and excellent facilities for our PE faculty and various sports teams.
For those who join us in Year 7, we have a Year 6 Transition Co-ordinator who works in partnership with our feeder schools ahead of the annual Transition Day when our new starters come to us for their first experience of secondary school. The day includes sample lessons, the chance to meet with some of our teachers, and the opportunity for students to familiarise themselves with the secondary school environment. We then host an information evening for new parents/carers, providing them with the required information to safely navigate themselves and their child(ren) through the primary/secondary transition.
At The Hurst we offer a wide variety of leadership and extra-curricular opportunities, with clubs ranging from Warhammer to yoga, to textiles and music lessons. We also have an on-site gym for our older students to use. Student Voice, our school council, encourages students to direct and initiate activities which promote the development of the school and the welfare of their fellow students. Our subjects run a wide variety of trips during the year which include an annual ski trip, a London West End theatre trip for Music students, a New York trip for our Year 11 Business students and a Year 9 Battlefields trip as part of the History curriculum. When our students reach Year 11, they also have the opportunity to put themselves forward for our prefect positions or for Head students and take an active role in the life of the school. We also hold a Colour Run fundraiser event each year, which is a fantastic afternoon of fun across all the year groups. Please click here to see the video of our 2023 event.
'Building minds and character for future life success' is our vision, and we are immensely proud of our students who are our best ambassadors. There is no better way of judging a school than to make a visit, and we host a number of Open Mornings during the Autumn term, with our annual Open Evening taking place in September. We are however always happy to welcome visitors to the school, so please get in touch if you would like to arrange a visit. We look forward to welcoming you.
What our students say about us