Summer School
Summer School Review 2022
This year we ran our second successive Summer School, with a three-day programme of exciting activities for our new Year 7 students taking place across the first week of the summer holidays.
At The Hurst, we already run a Taster Day for our Year 7 students in July, where the new intake come together as a group for the first time, to learn about the school, experience some taster lessons and to meet some new friends, ahead of them joining us in September. The Summer School experience builds on this, giving students more time to further familiarise themselves with the school and its layout, encourages the creation of new friendships, introduces students to our teachers and a number of different lessons, and most importantly provides an environment for having fun!
We had 143 students attend Summer School this year. The days ran from 9am-3pm, in line with the school day, beginning with an assembly each morning before students were split into tutor groups to take part in a range of activities.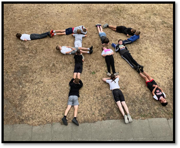 Over the course of the three days, students completed lessons in English, Maths, Science, Drama and Geography and took part in a number of sports activities including bench ball. On day two students took part in 'Challenge Day' with a number of exercises focusing on team building and communication skills, with tutor groups competing against each other for overall victory! Activities included an art challenge, and the overall favourite activity of Summer School, using our huge sports hall's giant inflatables.
Each morning students would see photos of their endeavours from the previous day, and links would be made as to how challenges from the previous day could be linked to the wider world.
By the end of the third day, strong friendships had been formed and all those who attended said that they were now ready and excited to join us at the end of the holidays.
"Summer School was really fun – it gave me a great taste of The Hurst."
"I started the week feeling quite nervous, but after just the first day I had made friends and the school already felt familiar."