Posted on 24th May 2022
After such a successful Summer School of 2021, we would like to offer all Hurst-Students-to-be of 2022 the opportunity to join us!
The Summer School will give students the chance to get to know all about our staff, our school site, and—really importantly—each other!
Monday 25th—Wednesday 27th July
9am-3pm at The Hurst School
"I started the week quite nervous, but after just the first day, I had made friends and the school already felt familiar!" – Year 7 student
"This was such a helpful and positive experience for my son. He is generally quite shy and this really helped him to get a better idea of what to expect." – Year 7 parent
Students will benefit from experiences in the classroom and out, working with students from their tutor group.
The 3 days will involve:
• 'Getting to know you and the school' activities
• Taster sessions in different subjects
• Sports tournaments
• A celebration afternoon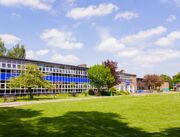 Places at the Summer School will be subsidised, but we will need to ask parents to contribute £30 to the cost. If your child is in receipt of Free School Meals, their place will be paid for.
If you would like to register your child for a place, please do so by Friday 10th June by scanning the QR code below. Mrs Billingham will then be in touch with further details, including payment.